THE MIGHTY-MITE High Strength Aluminum, Triple Chrome Plated
MMC
Check out the MIGHTY-MITE FEATURES
Smallest size air cooling system on the market.
Plug and play wire harness complete with a Deutch plug that plugs into the accessory switch plug on Harleys equipped with that feature. Also included are all electrical parts required if direct battery hook up is preferred.
Mighty Mites also includes a new heavy duty Vibration Damper that better positions the unit for the strongest and most desired installation.
Smart engineering assures easy and accurate installation which positions the Mighty-Mite precisely where it does the most good.
The small profile Mighty-Mite, surprises all with an amazingily powerful air velosity. Not quite the power of the Cool-Master, yet very effective in engine cooling abilities.
*The Mighty Mites will not fit on older carburetor Harley models without trimming the plastic choke knob.
Out of stock
Description

Related products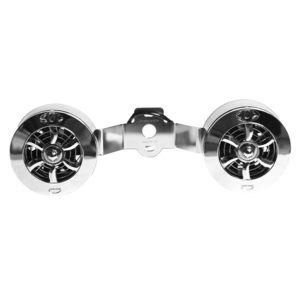 Out of stock